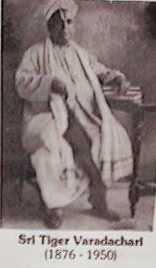 Tiger among Musicians - By Vinjamuri Varadaraja Iyengar
It is nothing short of venture on my part to give a write-up on the oceanic depth of musical knowledge with an inimitable and unsurpassed imagination which my Music mentor, Late Sriman Gayaka Shikhamani, Sangita Kalanidhi Tiger K. Varadachariar possessed with an unmatched fame. Music was part and parcel of his life. Strictly speaking, it was not his profession.
He was born at Kolathur, a tiny village in Chengulput district on 1st Aug 1876 as the eldest son of great Tamil, Telugu and Sanskrit scholar by name Sriman Kandadai Ramanujachariar. He had two younger brothers by name Veena Krishnamachariar and K.V. Srinivasa Iyengar, Author of "Gana Bhaskaram", "Sangita Ratnavali", "Thyagaraja Hridayam" in three parts and "Sangita Sudambudhi", all the four written in Telugu. All the three brothers contributed their mite to the growth and development of the practical and the grammatical side of Carnatic Music.

First, having undergone training in the beginning stage in Music under a village pedagogue of Kolathur, they had their advanced training under the great Patnam Subrahmanya Iyer, then a resident of Tiruvaiyar in the age-old Gurukulavasam manner. As their music mentor shifted himself to Madras, the brothers were obliged to follow suit. After a few years, Sriman Krishnamachariar had training in Veena play under the then prominent Veena Vidwan Kalahastayya, specializing in Padam rendering. And the third, K.V. Srinivasa Iyengar transcribed into notation what all he knew and got the printed. The intricate Musicological portion of "Gana Bhaskaram" was contributed by the eldest of the brothers, Sriman Varadachariar, as acknowledged by the author himself. Living at Kaladipet, Madras, they imbibed considerable Musical Knowledge from well-known Thatchur Singaracharya Brothers also. Sriman Tiger developed high manodharma sangitam on the lines of his Great Guru. Even by then he made a name in the world of Music.
With all his attainments he somehow felt he should not take music as his profession as it might not help him to make both ends meet. He, therefore, tried his best and got a job at Calicut in an institute under the control of the Government. Hard working and sincere as he was, he was in the good books of his boss. Out of office hours he spent most of his time singing to heart's content. Days running, he became popular as a great Musician among the citizens. Offers began to pour on him for giving Music performances in connection with temple festivals, matrimonies, musical gatherings etc. All this was in addition to his exacting office work. Years rolled on by which time he was getting invitations from Maharajas, Zamindars, and the elite of the place, in and around. He was not much particular about the accompanying artistes. But in most cases suitable accompaniments for his recital were provided. His reputation spread far and wide.
One fine Morning, the concerned postman delivered to him a long cover embossed with the seal of H.E.H The Maharaja of Mysore, containing invitation for him to honour the Durbar by giving a music concert on any evening during the ensuing Navarathri Festival season. With his office boss's permission, he readily sent his approval to have his concert on any day convenient for the Durbar Bakshi in his planning. Maharnavami Day was the day fixed for him. He took leave of his office for all the days of the season so as to enable him to have an idea of the dress he should have to wear, as per Durbar customs, timing etc, from the Durbar Musicians at Mysore. One day earlier, he was at Mysore and was the guest of the Sri Mysore Vasudevachar, his co-disciple under Patnam Subramanya Iyer.
The grand festival commenced and Tiger had the great privilage of attending all the music concerts till Durgashtami day when his friend and host Vidwan Mysore Vasudevachar was to give his performance in the Durbar Hall. Sriman Tiger carefully listened to the concert. Having returned to his abode, he had his meal with his host and went to bed. For a long time he was busy in composing an intricate Pallavi in praise of His Highness in an intricate Talam in the Raga Poorna Chandrika. Got up from the bed on the Maharnavami morning only to find that his throat was brim with heavy phlegm, resulting in difficulty even to speak. Knowing the cure himself, he ordered for a big tumblerful of boiling water. With no hesitation whatever, he poured the boiling water in his throat and swallowed. Took rest for sometime and tried to sing. Voice became wonderfully trim. He preferred to keep his stomach very light. By about 4.00 PM the Palace-coach arrived to fetch him to the Palace. Sri Vasudevachar tuned his well-kept Tambura, and asked one of his disciples to assist him by Tambura play. All dressed themselves in their respective dresses and proceeded to the Palace.
After listening to his way of Pallavi singing H.H. Maharaja of Mysore requested him to be his Court Musician. So, thereafter he resigned his job at Calicut and joined as Durbar Musician at Mysore. On listening to his rendering of an intricate Pallavi singing in Poorna Chandrika, for about four hours, His Highness conferred on him the title "Tiger" describing him as Tiger Varadachariar. Ever since he was known as "Tiger Varadachariar" though the great palace musician, Veena Seshanna used to address him as Lion Varadachariar. After a decade or so Tiger felt like getting back to Madras, and took leave of his Highness and got back to Madras.
For a fairly long time, he was residing in 32, Apparswami Koil Street, Mylapore. Madras Music Academy opened under its auspices an institution by name Teacher's college of Music and requested him to be its Principal, which he served with good Administrative capacity and dignity for a period of five years. Afterwards he became the Head of the Music Department of Madras University. It was on his suggestion the University of Madras conducted Diploma Course in Indian Music. One morning he enquired me of my academic qualifications, training if any, in Carnatic Music and languages known. On my relating them to him he was impressed. He listened to my singing and asked me to follow him to the University. I obeyed his order. He gave me an Admission form for the Diploma in Music Course and asked me to fill it up. He went through it and signed. I became his devoted disciple ever since. His mode of imparting music to his students was very much different from that of a common practitioner. He commenced the lesson with himself rendering the Raga with all its colours for about half an hour giving its true picture. Thus we had mentally formed an idea of the Raga shape. Then he started the Pallavi portion of Muthuswami Dikshitar's Adi Tala composition, "SRI MOOLADHARA CHAKRA VINAYAKA" in a very slow tempo. After rendering a portion of it, he used to ask each one of us to repeat the same, one after the other and corrections were made wherever necessary. Finally we rendered the same in group singing, of course with the aid of a well-tuned Tambura. It took us one full week for completion of the Pallavi portion of the krithi. He never gave anything he taught in notation even if requested. His reply was "You will yourselves be able to notate anything you will learn from me".
It was my good fortune to have been one of his best students in the University. Whenever he was busy otherwise, I was asked to instruct and revise the lesson already taught by him and some-times to teach the other students and make a thorough revision of the lesson we had already learnt. Lucky I was with his blessings, came out first in First Class in our final examination. From then onwards, I became his permanent disciple even during the period he was the principal, Annamalai University Music College and thereafter during the period he was the Principal of the Music Section of Kalakshetra, Madras, located in the Theosophical Society Gardens at Adayar, Madras. I had the good fortune to assist him vocally during his performances at Annamalai University Campus and Kalakshetra and during various other concerts elsewhere.
Very few know that he was a great composer on the lines of his music-mentor Sri Patnam Subrahmanya Iyer. In addition to his contribution of tunes to the songs in the operas while at Kalakshetra of Adayar, mention must be made of his composing standard varnams, like a Jhampa Tala varnam in Manirangu Ragam, a Adi Tala varnam in Durbar Ragam, Adi Tala varnam in Sriranjani Ragam and one Adi Tala varnam in Saveri Ragam. His Kalpana Swarams if noted down would be nothing short of a composed varnam. His was a mastermind.
Though a gentleman with great attainment he was simple to the core. With his caste mark pre-eminently painted he used to come out with a coat and an upper cloth, an umbrella in hand, his inevitable betel case made of coconut leaves wherever he was invited. He was easily accessible. Not once he was found in angry mood. He was an embodiment of simplicity. I am short of words to give a full-fledged picture of that great personality. My humble prostration at his feet.