Gayakaratna Dr. Vinjamuri Varadaraja Iyengar was a senior artist of AIR even in the early forties.
The following is the copy of the AIR Program Contract to Dr. Vinjamuri (28), offering an hour and a half Concert to be broadcast from Madras Station during prime time on 14th March 1943.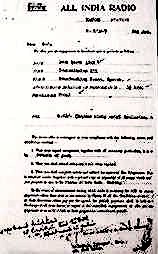 It is interesting to note that the AIR station was situated in Egmore, Madras,then, and the time of the concert was not specific but mentioned as Transmission III, indicating the status of AIR in the early years of its inception.